As sports continued to grow in popularity and offer high earning jobs to young athletes, parents have been advised not to limit the development of their wards only to academics but to consider the hidden opportunities sports could offer them in their future career.
The Sole Administrator of Adeniran Ogunsanya College of Education International school, Ijanikin, Lagos, Mrs. Elizabeth Ajayi gave the advice during the 3rd inter-house sports competitions of the school on Saturday. Mrs. Ajayi said development of the AOCOED International school cannot be separated from sports because of the golden opportunities it can offer to the youth and the health benefits associated to it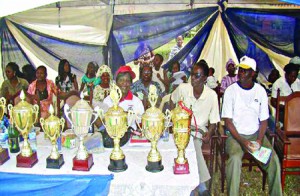 A cross section of guests at the inter-house sports competition
In view of this, she said that the school had made it a tradition to award excellence in sports through medals and honours to deserving participants during the school annual inter-house competition. "For those of us who are familiar with the development of AIS, this is becoming a tradition during which excellence in sports is established and rewarded through medals and honours to deserving participants.
From as far back as the first Olumpics to the advent of the Super Bowl, sporting events have inspired a followership and fanaticism unparalleled by just about anything else shorts of religious fervor. We see evidence of this each and every day in the salaries paid to professionals athletes, high attendance at various sporting events and the sheer amount of serialized merchandise and memorabilia that abounds," she stated.
Recalling memories of the past when little or no importance was accorded to sports, the Sole Administrator said that sports can no longer be viewed from the perspective of old when playing football was a crime in the home, especially now it is being seen as uniting force in Nigeria and offer high pay jobs to young Nigerians.
Apart from the lucrative job opportunities sport offers, she also emphasized what she called the invaluable health benefits of sports to people.
She therefore urged parents not to underrate sports in the development planning and process of their wards.
She also admonished the students to identify their hidden talents in sports and to always go into sports with spirit of sportsmanship and eschew rancor and bitterness.
Meanwhile, four different house groups participated at the different sporting events that took place at the occasion.
At the end of the event, Nelson Mandela Green house took first position in the overall assessment, Fumulayo Ransome Kuti, House came second while Professor Ayodele Awojobi , Ash house took the third position.
Responding on behalf of his fellow students, a JSS 3 student, Jerry Jeneff, of Nelson Mandela house said "I feel very happy because we have broken a record for taking first position the first time since the inception of this competition three years ago. Last three years, we took third, the following year we took second and now we took first. One thing I learn is that no condition is permanent in life and with hard work, no dream is unattainable. It is good as well to enrich your talents because one way or the other you will surely make it.
On his own part, Suleiman Mohammed, a JSS 2 student, of Funmilayo Ransome Kuti House said he was happy to be part of the competition. "I'm happy because we have improved from our previous performance."